Featured Listing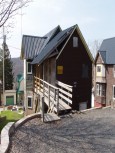 Duplex at:
713 Elm Street
Apt A
Hancock, MI 49930
$750/mo.
Moving out?
We have some tips that can make it a little easier
Move-Out Checklist
One month before your lease expiration date, make a Move-Out Checklist. This document should guide you in properly cleaning and inspecting your rental so that you can ensure a full return of your security deposit. You may want to download the Apartment Inspection Form. This document is very comprehensive and is useful in spelling out in advance exactly how we expect your rental to look after you have fully vacated. We understand that moving is a very stressful time, but we strongly urge you not to wait until the day you move out to start cleaning.
Utilities
Please schedule the local utilities to take the service out of your name on the day of your move-out. It would also be a good idea to forward your mail at that point as well.
Return of Keys and Forwarding address
You must return all keys, parking passes, garage door openers, etc. upon moving out of your rental. It is of utmost importance that you provide us with a forwarding address and it is to your benefit that this information is provided in writing. We need to have this address so that we may send your security deposit back to you following a 30 day waiting period. If we are not provided with a forwarding address, than we will not be able to send your security deposit.
Return of Security Deposit
Within 30 days following your move out date, you will receive your security deposit in the form of a check along with an itemized list of deductions if applicable. Provided that you followed the guidance of the Move-Out Checklist, you have paid all of your bills on time, provided us with all keys, parking passes, garage door openers, etc. and a forwarding address; then you should expect your security deposit paid in full with our thanks for being a great tenant.
Useful links